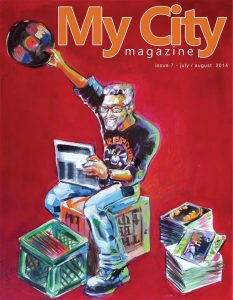 Repo Record is everything the serious record and music collector thrives on.
That's because owner Jimmy Repo knows the feeling of scoring a long sought-after record. He knows what it's like to hold it expectantly in your hands, to feast on the cover art in full 12-inch splendor, to take a big whiff of new vinyl smell. Because he's been doing it himself for 40+ years. He knows how music can serve as the soundtrack to your life. In other words, he is you. And nothing makes him happier than hooking people up with music.
Jimmy started buying records as a kid, then began DJing as a teen, then ended up spinning records professionally in Atlanta discos in the '80s. When in returned to Charlotte in 1988, he opened the original Repo Records, which grew to three brick & mortar stores. Now he runs Repo version 2.0 in the old Heywood Sewing Center at the edge of Plaza-Midwood.
Yep, he's a record geek. That's why Repo is:
Well lit and organized
Spacious inside with easy access and parking
Stocked with a huge selection of carefully-graded used LPs, killer new vinyl reissues, CDs and DVDs — rock, country, jazz, folk, R&B/funk, metal punk, alternative, comedy and more
The place for rare and important stuff
Vintage audio gear (turntables, receivers, power amps, speakers, more)
Proud Record Store Day participant
Live in-store performances
It's how Repo's always done it. And how they'll continue to do it. Come experience it.